Gangsters, Samurai, Aliens and Atom Bombs: The Cinema of Kinji Fukasaku
by Craig McNeely
The recent release of the enormously popular film adaptation of Hunger Games has sparked a renewed discussion of a cult classic, Kinji Fukasaku's 2000 film adaptation of another post-apocalyptic novel, Koushun Takami's Battle Royale.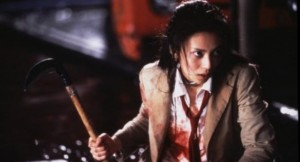 While the majority of the discussion has leaned toward illogical declarations that Hunger Games is somehow a "rip-off" of the cult Japanese movie*, it is possible for the discussion to take a more positive and, in this writer's opinion, more important direction. Simply stated, Kinji Fukasaku is one of the greatest filmmakers that Japan, or any other country, has ever seen. He possessed a singular ability to handle large-scale epics just as well as small, intimate dramas. He was not given to pretension and could be relied on by studios to deliver time and time again, all the while remaining fiercely independent. Fukasaku did not often follow trends in the Japanese film industry, but more than once he set them. When none other than the great sensei Akira Kurosawa himself was unable to deliver on the international Tora! Tora! Tora!, one of the filmmakers they brought in to get the job done was none other than Kinji Fukasaku.
My statements about Fukasaku as a filmmaker might seem strange to some readers, given the relatively small portion of his filmography that is available for purchase outside Japan. However, if Battle Royale should be reconsidered (and I believe it should, it's a great movie) it should be as a gateway to the oeuvre of the director. Therefore, here is a guide to the films of a forgotten master. The work of a man who worked until the day he died, ignoring the doctor's warnings to stop when he was diagnosed with terminal cancer and given mere months to live. Not all of the films Fukasaku worked on were great, but all benefited from his touch. His filmography is too voluminous to treat properly in full here. Fukasaku directed over 60 films, spearheaded an enormously popular television series, and even worked on a video game in his career, spanning four decades. Therefore, this guide is just that: a guide. The real joy comes in seeking his films out for yourself, a hobby that this fan has enjoyed for the past decade.
1. Gangsters
In his home country, Fukasaku is undoubtedly most well-known for his contribution to the Yakuza genre. Like the jidai geki before it, the Yakuza film most often featured an outsider hero who is bound to a personal code of honor. Despite society's attempt to corrupt him, the yakuza remains true to himself. He also usually gets the girl.
This fantastical revisionism did not cut it for Fukasaku. He saw the Yakuza for what they were: ruthless, greedy, corrupt, mean criminals. A child of the dark post-WWII era, Fukasaku saw a world where society's ideals of honor and self-sacrifice were often twisted by men whose world had been torn asunder by war and avarice. As times became hard, the common good eroded in favor of desperate men in desperate situations looking out for themselves. Societal ideals conflicting with personal action would become a common theme in the films of Fukasaku, but perhaps nowhere better than in his masterpiece: the five-part series Jinji Naki Tatakai.
Translated as "Battles Without Honor or Humanity", Jinji Naki Tatakai is ruthless, violent, visceral and one of the best series of gangster movies to date. Where Godfather is almost self-consciously glamorous, the viewer never sees main character Shozo Hirono (played masterfully by Bunta Sugawara, one of two actors that would seem to form a special kind of chemistry with Fukasaku that actors sometimes find with a particular director) as anything but a thug. He's a punk that maneuvers his way to the top through violence and manipulation, far removed from the Corleone family.
Adapted from a series of newspaper articles which rewrote the manuscript of real-life Yakuza Kozo Mino, Jinji Naki Tatakai is filmed in an almost documentary-style. The camera is frenetic, giving the series a sense of urgency and chaos. Fukasaku would become known for his fast camera work. Beginning in the black market of post-war Hiroshima, the series follows Shozo Hirono as he becomes involved in the complex web of yakuza life.
Fortunately for American lovers of cinema, Jinji Naki Tatakai was released on DVD in a boxed set as The Yakuza Papers by Homevision Entertainment in 2004. The company released a great many of Fukasaku's yakuza films at the time and sadly have now gone out of business. However, The Yakuza Papers is a rare occasion in which a series of great films got the royal treatment that they deserved. Encased in a beautiful metal container, the films are presented in a fold-out which would be worth the price of admission alone. Also included is a chart detailing the various Yakuza clans and their relation to each other over the course of the series and a booklet of essays, including an interview with the master himself. The bonus features are all contained on the final disc and wonderfully put the series in context with documentaries and interviews with the likes of Fukasaku, William Friedkin, and Fukasaku's son Kenta. The boxed set is not easy to come by anymore, but it is an absolute must buy if ever found.
2. Samurai
What Fukasaku did for the yakuza genre, he would also do for the jidai geki or "period drama". The jidai geki was one of the most famous genres in Japanese cinema, but had fallen out of favor. After a very successful run of yakuza films, Fukasaku teamed with Shinichi 'Sonny' Chiba, who he had worked with previously, and made The Yagyu Clan Conspiracy. The film is a sprawling historical epic about the bitter fight between the shogun's sons after their father's demise to poisoning. Chiba plays Yagyu Jubei (Chiba's personal favorite role and favorite film), fencing instructor to one of the sons, who ends up betraying even his own family for personal gain in true Fukasaku fashion. Those who know Chiba only through the Street Fighter series and his role in Tarantino's Kill Bill should seek it out.
The film would prove enormously popular. The sets were turned into a theme park attraction and Fukasaku would direct a pilot for a television series based on the hit film. With lavish sets and a cast that included stars such as Tetsuro Tanba, Isuzu Yamada and even a cameo appearance by the great Toshiro Mifune, The Yagyu Clan Conspiracy is a complex, rousing adventure film that is well worth seeking out. Action scenes courtesy of Sonny Chiba's own Japanese Action Club round out this wonderful movie. American audiences can find it on DVD from Adness either standalone or in the boxed set The Shogun Collection, featuring three other films starring Sonny Chiba. Another film in the boxed set, Swords of Vengeance (also known as The Fall of Ako Castle) is Fukasaku's treatment of the popular 47 Ronin story, complete with more wild stunts and action sequences courtesy of the JAC.
This would prove a winning formula for Fukasaku and Chiba and they would collaborate many times for jidai geki — from Chiba reprising his role as Yagyu Jubei in the horror-action of Makai Tensho (Samurai Reincarnation) where Yagyu Jubei must fight evil samurai Shiro Amakusa who is resurrecting swordsmen to join him on a murderous rampage to the epic fantasy of The Legend of Eight Samurai. Both of this other films can be found on DVD courtesy of Tokyo Shock and Adness, respectively. All should be pursued by fans of action and adventure.
3. Aliens
Fukasaku was no stranger to Japanese-American co-productions. He was also no stranger to being called upon for cheap projects intended make easy cash for the studio. On two occasions, these interests would combine in the form of science fiction B-movies, The Green Slime and Star Wars knock-off Message From Space.
In both cases, Fukasaku takes the material he was presented with and provides as wild and zany an experience as possible. Space Vikings, one-eyed tentacle monsters, asteroids, space battles, Chiba as a space ranger inexplicably named Hans (get it?), and a deadly serious Vic Morrow are just some of the pleasures which await you when you watch The Green Slime and Message From Space, both available in the US on reasonably-priced DVDs.
4. Atom Bombs
As stated before, Fukasaku was very much a child of a world torn apart by the horrors of World War II, such as the atom bomb. Therefore, as an artist, Fukasaku was critical of humanity at large and specifically governments. This concept is expertly presented in three very different films.
In 1972, Fukasaku released Gunki Hatameku Motoni (Under The Flag of the Rising Sun), a beautiful, poetic, harrowing story of a widow's attempt to discover the truth behind her husband's execution at the hands of Japanese soldiers during World War II. The film employs black and white photography, freeze frames, and all the other techniques that Fukasaku would become famous for to tell this Rashomon-like tale. It is a no-holds-barred look at post-war Japan and is also available as a must-own DVD from Homevision Entertainment.
In 1980, Fukasaku directed Day of Resurrection (also known as Virus), an epic disaster movie featuring an all-star cast of both Japanese and American actors including Sonny Chiba, George Kennedy, Bo Svenson, Ken Ogata, and Henry Silva. The film centers on a military-engineered virus which wipes out the entire human population. All that remains is a group of scientists in Antarctica who must now search for a cure. Originally 156 minutes, the film was released in a truncated form to US audiences – clocking in at a mere 108 minutes. Sadly the original cut is not easy to find but features a great story that is a real treat and definitely worth searching for.
Finally in 2000, Fukasaku would greatly improve on a novel by Koushon Takami and direct the cult hit Battle Royale. Battle Royale is set in a future Japan in which groups of ninth-graders are forced to compete in a game called Battle Royale due to government legislation. What follows is a bloody, darkly satirical send-up of Japanese youth culture. The film would prove enormously successful in its home country and acquire a hardcore cult following abroad. There are wonderful performances by "Beat" Takeshi Kitano (delivering the kind of ironic and self-deprecating performance he is known for as a character named simply "Kitano") and Chiaki Kuriyama. Due to the aforementioned comparison to Hunger Games, Battle Royale has finally received the American DVD and Blu-Ray treatment from Anchor Bay in both a single-disc and deluxe 4-disc version. If you do not know this film, it is well worth seeking out and viewed as the wonderfully dark satire that it is.
Kinji Fukasaku is one of the best filmmakers to come out of Japan, if not anywhere. This guide merely touches the surface of what is a brilliant and successful career in the film industry. I have attempted to stick to films which are available in the West, but there are a great many films which could not be included here. I have tried to touch upon broader themes to provide an overview of what Fukasaku achieved during his nearly half-century career. Readers who take to the Jinji Naki Tatakai series would also enjoy Street Mobster, Graveyard of Honor, Blackmail Is My Business and the many other yakuza films that he directed. Those who like Yagyu Conspiracy or Fall of Ako Castle should look for Crest of Betrayal in which Fukasaku combines the 47 Ronin story with the old Japanese ghost tale of Yotsuya. Still others might fall in love with Black Rose, If You Were Young: Rage, Detective Doberman, or The Geisha House. There was seemingly nothing that Fukasaku could not do and therefore there is something for everyone. Cinema buffs eager for more great films to enjoy would do themselves a favor by exploring the filmography of Kinji Fukasaku beyond Battle Royale. These films should not be forgotten.
* The argument that Hunger Games is somehow a rip-off of Battle Royale is not an intellectually sound one. While both films feature groups of children made to fight to the death in a game, the films are otherwise wildly different and there is every indication that Suzanne Collins (writer of Hunger Games) had never heard of Battle Royale beforehand. World history is rife with examples of people in different places coming up with similar ideas independent of one another. It was never unusual before and it is perfectly normal now.