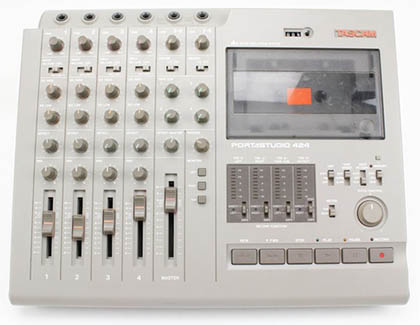 Here is an archive of hard-to-find user manuals for legacy and vintage analog cassette recorders, specifically focused on the Tascam (TEAC) Portastudio/MIDIstudio 4-track, 8-track, and multi-track series.
Tascam (like most hardware and technology vendors, it seems) has omitted end-user support for a fair portion of their legacy systems, which can be understandable with difficult driver ports, but continuing to provide PDF versions of instruction manuals requires extremely minimal effort. In this case, some of them already exist in digital format, yet they are still extremely hard-to-find. Disappointing that some have to resort to buying PDFs from sellers on eBay just to know how to maintain and operate their equipment.
Due to the incredibly rare nature of these instructions, R-Massive has made them available for download in PDF form. Some are official versions, but most are (sometimes low-quality) paper scans.
These are the best versions we are aware of, but some of these manuals are so difficult to source that a few of the manuals are poor condition. If anyone has any manuals in different languages or higher quality, please contact us (Facebook, email, or the comment section below).
Note: A few of the manuals below are for Tascam digital Portastudios which feature minidisc (MD) recording rather than cassette tape, but the unsupported, rare, and vintage principle still applies.
OWNERS MANUALS
Portastudio Series – 144, 244, 246, 414 (mkI & mkII), 424 (mkI, mkII, & mkIII), 464 (English or Japanese), 488 (mkI & mkII), 564
MIDIStudio Series – 644, 688 (English or German)
MiniStudio Series – Porta One, Porta Two (1986), Porta 02, Porta 05, Porta 07
Others – 388 Studio8
SERVICE MANUALS
Tascam (TEAC) 144 Portastudio (schematics only)
Tascam (TEAC) 244 Portastudio
Tascam (TEAC) 246 Portastudio
Tascam (TEAC) 388 Studio 8 Recorder
Tascam (TEAC) 414 (mk1)
Tascam (TEAC) 414 (mk2)
Tascam (TEAC) 424 (mk1)
Tascam (TEAC) 424 (mk2)
Tascam (TEAC) 424 (mk3)
Tascam (TEAC) 464 Portastudio (schematics)
Tascam (TEAC) 464 Portastudio (service manual)
Tascam (TEAC) 488 (mk1) Portastudio
Tascam (TEAC) 488 (mk2) Portastudio
Tascam (TEAC) 564 Digital Portastudio
Tascam (TEAC) 644 Midistudio
Tascam (TEAC) 688 Midistudio
Tascam (TEAC) Ministudio Porta One
Tascam (TEAC) Ministudio Porta Two — currently unavailable
Tascam (TEAC) Porta 02 — currently unavailable
Tascam (TEAC) Porta 03 — currently unavailable
Tascam (TEAC) Porta 05 — currently unavailable
Tascam (TEAC) Porta 07 — currently unavailable