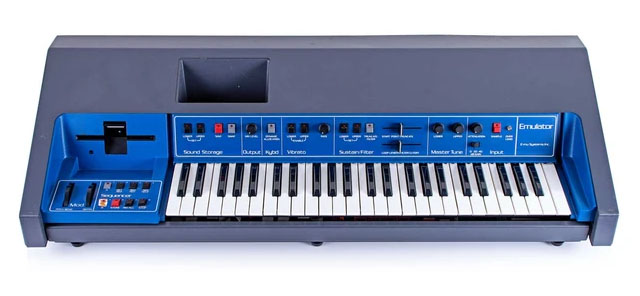 Not complete, but more than can be found elsewhere.
About the Sample Diskette Library
The initial factory sound library for the Emulator I was rather limited, and you had to buy blank formatted diskettes from E-mu Systems to create your own samples. It was quickly realized that a sample library was vital to achieving Emulator sales, and Kevin Monahan at E-mu developed a factory library during 1982/83.
The Emulator came with a Production Set of 10 diskettes, including Brass, Violin, Piano and FX. The diskettes came in a bright "E-mu blue" box. The factory library expanded throughout 1982, and there were 99 diskettes available in mid 1983 and 129 in the Fall of 1983. The majority of the samples were of acoustic instruments and FX, however the Synclavier and Prophet 5 did make an appearance!
The sample library continued to be available from E-mu for another five years, but eventually all the copies and even the masters were sold to customers.
E-mu initially allowed customers to request which two sample banks they wanted on each diskette that they ordered. A 10 character code identified each sample bank in the factory library and E-mu customized sample diskettes for every customer order. This approach proved unworkable once there were 100s of customers, and at the end of June 1983, they switched to a numbered set of factory sample diskettes with a pre-determined pair of sample banks. Customers could then order a diskette number from the Master Sound Library Index.
The Sample Bank Numbers The 10 character code for sample bank identification was as follow: XX-YYY-ZZZS or XX-YYY-ZZZMn
XX = two digit number that identifies the Sound Family
YYY = three digit number to identify the Instrument
ZZZ = three digit number representing differences in playing style
There then followed a code which determined how many samples where in the sample bank. The letter S denotes a single sample and Mn is a multi-sample with n samples within it.
Early sample diskettes were made up of two single samples. Once multi-sampling software became available in mid 1982, E-mu added around 20 multi-sampled instruments and FX. However most factory diskettes contained just two samples, as the sample time was so limited at 2 seconds for each bank.
The Emulator came with 10 factory sample diskettes called the Production Set. Here is a typical list of the samples that were in the set, although this did vary over time.
Trombone/Trumpet
Pipe Organ
Korg Organ
Elec Bass/Long Power Crd
Pentatonic Harp
Tympani/Orch Hit
Steel Drum
Vibes/Glockenspiel
Simmonds Set #2
Motor Cycle
Sound Families:
00 Brass
01 Woodwinds
02 Voice
03 Strings
04 Acoustic Keyboards
05 Electric Keyboards
06 Guitar
07 Percussion
08 Special Effects
09 Miscellaneous
10 Demo Aids
Factory Sounds
Sound Description PDF
Sound Library PDF
Note: The disks listed below are the items which are still missing and therefore not included.
#4 – Trombone – Trump Oct Slur
#5 – French Horn – Flute
#7 – Brass Ens F – Brass Ens C
#24 – Piano
#30 – Accordion
#31 – Hammond
#33 – Rhodes
#35 – Electric Grand
#37 – Wurlitzer
#38 – Wurlitzer
#40 – Prophet 5 – Synclavier Bell
#41 – Prophet 5
#48 – Funk Bass
#55 – Burmer Perc
#63 – Xylophone – Pan Pipe
#71 – Cough – Sneeze
#74 – Voice – Cat
#77 – Door Closing – Door Opening
#78 – Indian Cymbal – Musical Saw
#83 – Waterphone – Erotica
#91 – Seagulls
#92 – Growl – Bark
#93 – Stein Bass
#94 – L.A. Brass – Power Brass
#95 – Rick Bass
#98 – Hammond B3
#99 – Hammond B3 Perc
Other Sounds
SSM Sound Library
Unsorted/Assorted/User Sounds