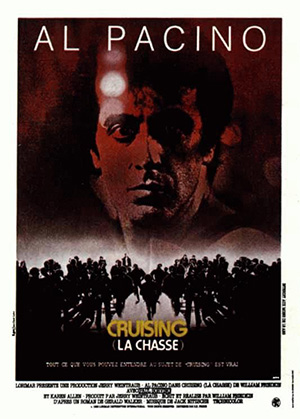 Cruising is a 1980 psychological thriller film written and directed by William Friedkin (The Exorcist) and starring Al Pacino. The film is loosely based on the novel of the same name, by The New York Times reporter Gerald Walker, about a serial killer targeting gay men, in particular those associated with the S&M scene.
Poorly reviewed by critics, Cruising was a modest financial success, though the filming and promotion were dogged by gay rights protesters. The title is a play on words with a dual meaning, as "cruising" can describe police officers on patrol and also cruising for sex.
Accessing our premium content requires a password. To receive the password, please Like us on Facebook and send a message to our page.