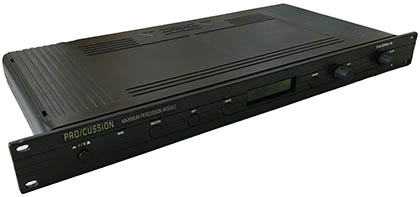 Documents and Manuals
Manual
Manual – Revision A
Factory Kits
Factory Stacks
Sampled Sounds
E-mu Proteus and Proteus XR Technical Manual
Note: While not specifically for the PRO/cussion, the Proteus service manual is very similar.
Factory Presets
User Presets – version 1
User Presets – version 2
E-mu SendDump SysEx Utility (for legacy PCs only)
Note: Multiple Kits sent to a Procussion need a delay of 200ms.
ROMs
Program ROMs
Sound ROMs — not yet available
Factory Reset
Warning: Backup all important presets before proceeding!
– With the Procussion off: Hold MASTER + EDIT while applying power.
– The "DIAGNOSTICS" menu will be available when the Procussion boots.
– Select "13 – Initialize" with the DATA encoder.
– Press ENTER twice.
– The factory ROM banks will be restored and the user area will be initialized.
– Use the Factory Preset SysEx above to restore the user presets area, if desired.
Service Notes
– The DATA encoder is secured to the front panel with a 13mm nut which requires a socket to remove.
– Refer to the PRO/CUSSION entry on the recapping and repair page for parts details (PSU, display, encoder, etc.)