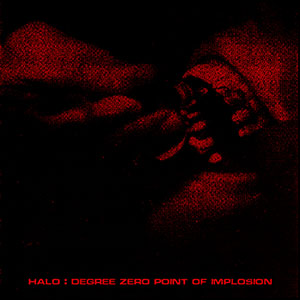 For those unprepared for what they may be getting themselves into, I'll start off with this press release:
The fourth release from 2-piece improv sonic terrorists HALO takes their bastard mix of noisecore sludge and abrasive power electronics to new depths.

HALO deconstructs the sad carcass of Heavy Music with relentless efficiency, forcing it through a meat grinding power noise aesthetic to leave it shivering and wasted by the side of the road, begging for release.

Degree Zero Point Of Implosion mixes wall-of-noise dynamics with brutal cacophony – critically detuned bass lays down sheets of white noise and static, modulated into damaged doom riffs and atonal drones over thunderous snail-pace rhythms and throat-tearing catharsis.
Well, that pretty much sums up the sound and attitude of this release. It's undeniably oppressive and bleak. It will NOT make you happy. It will not brighten your day.
This album slips into the void between HALO's better known albums Guattari and Body of Light. And like those two other albums it has moments of cohesiveness, with almost song like structures, and some parts with noise just pounding away. Just because this album was not released by Relapse doesn't mean it's not on par with HALO's other albums. It's an excellent album, and deserves its recent re-release on vinyl. It has certainly been a long time coming. There aren't very many copies floating around, so I suggest you grab it -now- while there's still time.
It's been implied that HALO is the Godflesh of the new millennium and I can't find anything to disagree with about that. HALO is definitely progressing and carrying the torch of twisted misery, while avoiding cliches of what is and what is not heavy. Simply put, if you're into the outer limits of what noisecore, industrial metal, or doom metal has to offer, then you're only cheating yourself by not giving it a listen.
Tracklist:
1 – Constriction
2 – Contortion
3 – Suspension
4 – Manipulation
5 – Deprivation
6 – Suffocation
7 – Immolation