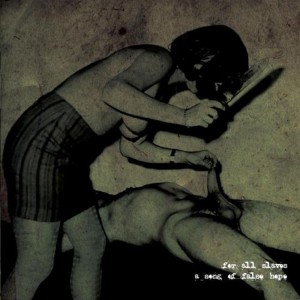 Sinister. Draining. Agony.
For All Slaves… a Song of False Hope is the kind of rare recording that tests even the most jaded listener. Even those obsessed with dark and heavy music may find this release too much to bear for any length of time. It's not overbearing in the Merzbow "white noise / sonic-assault" way, or pummeling like Nasum or Extreme Noise Terror, yet still quite capable of alienating its audience. It's not as cohesive or ferocious as Dragged into Sunlight. No, this isn't brutal music as it's usually referenced. Gnaw Their Tongues take a much different approach, just as menacing.
Gnaw Their Tongues is not a metal band (in fact, not a band at all), but more accurately a soundtrack project that borrows from the extreme metal genre, as well as dark ambient and horror cinematics. But don't expect palm-muted power chords, church organs, harpsichords, or tubular bells. Although this isn't strictly atmospheric, there isn't much here "musical" to listen to, aside from the last track, For All Slaves… a Song of False Hope II which sounds like faint black metal run through a fuzz pedal.
The misanthropic lunatic behind Gnaw, Mories, is not some faux-Satanist delivering campy, over-the-top, "I'm mad at Daddy" angst, which (thankfully) spares us from a lot of cliches. This EP is pure distilled hopelessness, futility, suffering, and the torture of being forsaken beyond redemption. For All Slaves boils away all the superfluous details of pain, distills the very essence of the human crisis of existence, and pours it burning down your unwilling throat.
For those seeking more sound in these bleak and vile realms, make sure to visit the Gnaw Their Tongues website, as Mories is very prolific, so it's quite likely you'll find something of interest. Or at least pick up a t-shirt with some artwork to impress your friends. After all, Gnaw not only has a band logo to die for, but always pay attention to graphic presentation, making their designs top-notch.
Destroy yourself below.