(demo, 2004)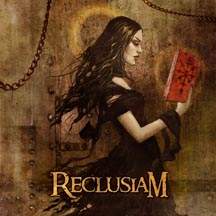 It can't be said that Reclusiam's eponymous debut is groundbreaking or particularly challenging, but it –is– an extremely well executed slab of funeral doom.  The production on this release is immediately evident.  Everything sounds just as it should.   The drums have punch.  The crisp cymbals aren't harsh or grating.  And most important, the guitar sound is not over/under processed like so many funeral doom bands.  Ryan Henry's growling vocals are commendable, nice and low but not distracting or annoying; the apotheosis of the funeral death vocal. The background strings are bordering on lush, yet appropriately cold at the same time.  The songwriting on this album is above the norm as well.  The chord progessions are rather haunting and the organ work at the end of "Parasellar" is particularly good.  The spoken word in "Litanies of Rust and Decay" is something I appreciated, as it added some character.  For the ambient inclined, the last track "Scotoma" has sample/synth work above and beyond the hack jobs most bands try to pass off.  The songs are long but not tiresome, but again, there's nothing really innovative here either.  No odd time-signatures and not really any tempo changes to speak of. I hesitate to harp on the unoriginality factor, as it's really quite amazing to see so much care put into a free release like this, especially since this is just a side project for Mr. Henry (who is better known from Necare).  I'm looking forward to the next Reclusiam album and crossing my fingers in hope that Ryan pulls out something to set Reclusiam far away from the pack, as the straight funeral doom sound is really the only weak spot in this otherwise amazing release.  This is a perfect item to pick up for those thirsting for a high quality funeral doom fix to spin between Thergothon listenings.  Reclusiam is light years beyond almost every other independently released/distributed doom band.
Track listing:
1) Parasellar (12:16)
2) Litanies of Rust and Decay (13:20)
3) Enim Corpus Meum (Hill 60) (14:30)
4) Scotoma (4:44)
Accessing our premium content requires a password. To receive the password, please Like us on Facebook and send a message to our page.