Using vintage Akai, Emu, Ensoniq, Kurzweil, Roland, and Yamaha sample CD-ROMs and other instrument files with Kontakt is fairly simple to do, and does not require purchasing any additional third-party conversion software. Kontakt 6 has removed support for these legacy sampler formats, but Kontakt 5 will happily convert and (if desired) resave to standard NKI files which will then work in Kontakt 6, if migrating exclusively to the newest version is (for some reason) required.
Again, make sure to use Native Instrument Kontakt 5 (5.8.1 is the final version), and not the newer version 6! The Import Version can be important in rare instances, but can be generally ignored.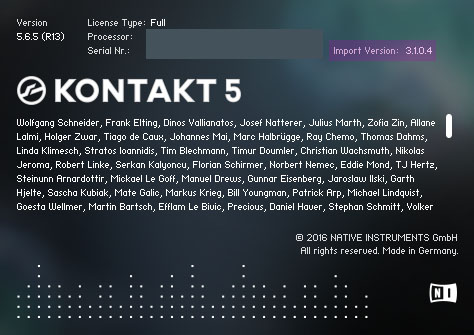 There are various ways to import legacy sampler content: Physical CD with CD-ROM drive, virtual CD images (IMG, ISO, NRG, DMG), and loose instrument files which have already been extracted from floppy diskette, CD-ROM, SCSI hard drive, or another sampler storage medium. Regardless, make sure to check that "Show Foreign Formats" is enabled in the 'View' menu of Kontakt before proceeding.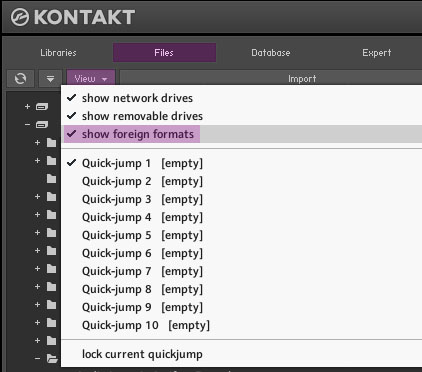 PHYSICAL CD-ROM IMPORT
– Insert a sampler CD-ROM disc into an optical drive connected to the computer running Kontakt.
– Hit 'Refresh' in Kontakt.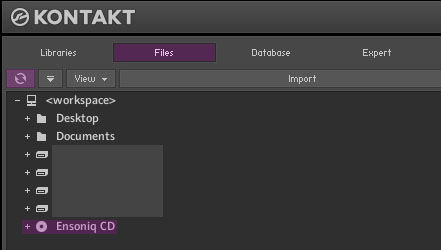 – Browse the newly detected sampler CD.
– Double-click on a single instrument to convert and import.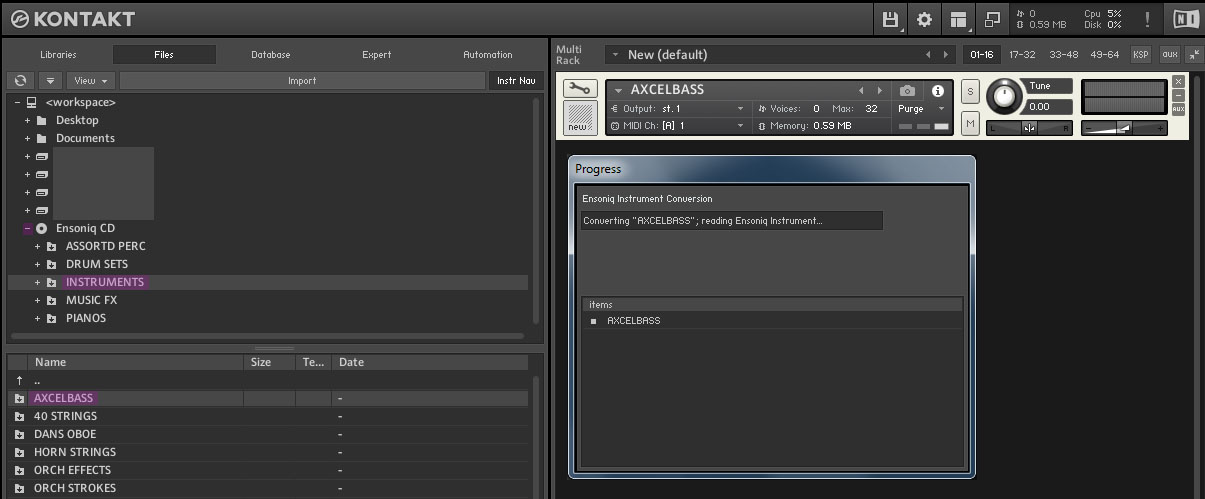 It's also possible to import an entire disc at once, rather than piecemeal.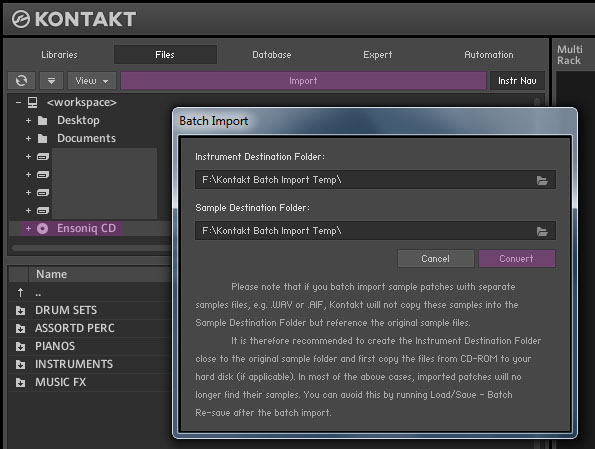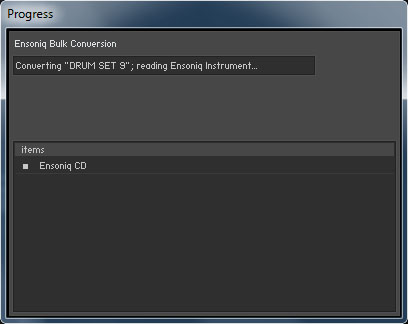 VIRTUAL CD-ROM IMAGES
The official method is detailed in the Kontakt 5 manual, page 116. However, here's a possibly more clear explanation of how to import from image files rather than physical CD-ROMs. This is beneficial in numerous ways: Speed, reliability, multiple discs visible at once, use of downloaded image files without first burning to CD-R, and for newer computers lacking any optical drive.
The image files (IMG, ISO, NRG, DMG) must first be placed into a special folder before launching Kontakt otherwise Kontakt will not be able to access the disc image as a virtual drive. The exact folder path depends on whether Kontakt is running on Windows (PC) or macOS.
Windows PC Specific
Create an "Images" folder in the "%SYSTEMDRIVE%\Users\[username]\Documents\Native Instruments\KONTAKT 5\" directory and move the desired disc images into the "Images" folder.
Example: "C:\Users\Owner\Documents\Native Instruments\KONTAKT 5\Images\AkaiSamples.ISO"

"C:\Images" does work, although no longer mentioned in the Kontakt manual, as putting files outside of a user folder is now a discouraged practice in Windows.

macOS Specific
In Finder: Go to Documents, Native Instruments, then Kontakt 5. Create an "Images" folder and move the desired disc images into the "Images" folder.
Both Windows and macOS
Any proper sampler disc image files placed in the "Images" folder will be recognized as a virtual drive when Kontakt is launched.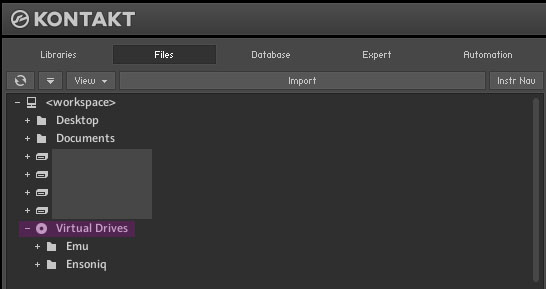 Instrument conversion and loading is then handled just like importing from a physical disc, so reference the previous section.
CREATING DISC IMAGES FROM CD SOURCES
ImgBurn on Windows and Disc Utility on macOS.
LOOSE INSTRUMENT FILES
This is the easiest method, but assumes the instruments have already been copied out of their original storage device and into a normal folder on the computer. This is somewhat atypical unless the instruments are part of a download pack and/or the result of users trading banks online. Ensoniq EFA/EFE files are the example used here, but this also pertains to other samplers. Simply use the 'File' tab to navigate to where the instruments are stored and they will load as expected.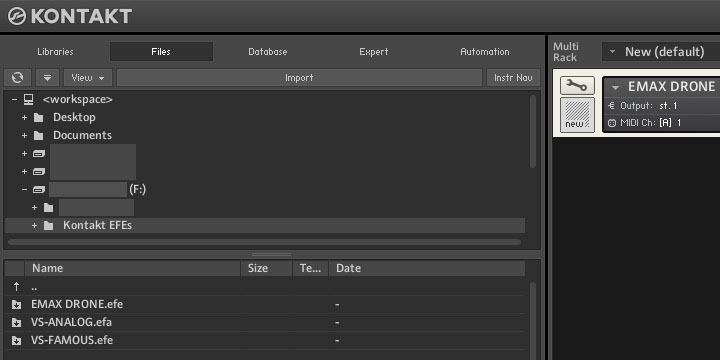 EXTRACTING LOOSE INSTRUMENT FILES
In most cases, this is unnecessary as Kontakt will be importing directly from CD or CD images. However, if it is desired or necessary to get the individual instrument files from a legacy sampler volume, the method depends on both the sampler and original media. Below are examples of software tools which are generally capable of doing such. Again, this is rarely recommended or necessary except in fringe cases.
A lot of these programs are designed for PC rather than macOS, so mileage will vary.
Akai: akaiutil, Awave
Emu (except EIV EOS): EMXP
Ensoniq CD-ROM/ISO to EFA/EFE: Awave or EnsoniqFS
Kurzweil CD-ROM/ISO to KRZ: KCDRead 1.2C (for 64-bit Windows)
Roland:
SUPPORTED VINTAGE SAMPLER MODELS AND FORMATS
AKAI
S-1000 CD-ROM
S-3000 / Mesa CD-ROM (.s3p, .sp)
S-5000 / S-6000 Program (.akp)
S-5000 / S-6000 Multi (.akm)
Z-4 / Z-8 Program (.akp)
MPC Sound .snd*****
MPC Program .pgm*****
EMU
EIV/EOS CD-ROM
ESI CD-ROM (.esi)
EIII CD-ROM
Emax II
ENSONIQ
ASR/EPS CD-ROM (or .efa/.efa individual files)
ASR-X
KURZWEIL
K2000 / K2VX (.krz)
K2500 * (.k25)
K2600 * (.k26)
ROLAND
S-50/S-550/S-700/S-770 (.out)
YAMAHA
A3000/A4000/A5000
UNSUPPORTED FORMATS AND ALTERNATE STRATEGIES
Emu Emulator, Emulator II, Emax, and Emax II would be examples of legacy samplers which cannot be imported directly by Kontakt. Use EMXP to convert these to SoundFont2 (SF2) and then open with Kontakt.
TROUBLESHOOTING: HANDLING BIN/CUE DISC IMAGES
For Windows: Convert to ISO using WinBin2Iso.
For macOS: Convert to ISO using AnyToISO.
TROUBLESHOOTING: HANDLING MDX DISC IMAGES
The MDX format is specific to Daemon Tools, so the prudent solution to to install Daemon Tools and use it to convert to ISO.
TROUBLESHOOTING: IMPORT VERSION
This specifically pertains to vintage soft samplers rather than hardware, but the concept may apply with legacy hardware samplers as well:
EXS instruments will not import properly under the latest version (3.1.0.4) of the Import Engine. Use a previous version such as 3.0.0.7. The Import Engine is controlled by the KConvert64.dll/KConvert32.dll (Windows) or kconvert.bundle (macOS) file installed by Kontakt.
The Import Engine can be taken from an older version of Kontakt and swapped, as necessary.