By Nate Bradford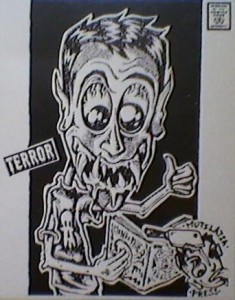 MONDO MOVIES
THEM! (1954)
Giant ants (which emit a terrifying sound) attack a New Mexico town in this, the first of the Atomic Age insect movies. A well-written script and excellent performances by a top notch cast make this one a must-see. Look for Leonard Nimoy as an Air Force Sergeant.
AMERICAN PIMP (1999)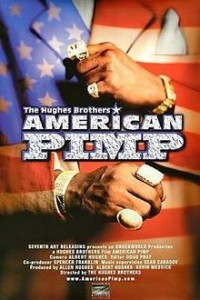 After an amazing debut film (1993's Menace II Society) and its uneven, but equally brilliant follow-up Dead Presidents (1997), The Hughes Brothers returned with this fast-paced and informative documentary about the lives of street pimps and the women they prostitute. Several real-life pimps are interviewed on a variety of subjects including: getting started in the business, finding new girls, and stealing girls from other pimps. Prostitutes (both street-walkers and those that work in legal brothels) are also interviewed. Many of them have hopes and dreams beyond the lifestyle, but several seem content. None of the subjects make any excuses for the lives they lead, and several of the pimps actually come across as charming. Many famous people have cameos including rapper Too $hort, Antonio Fargas, Heidi Fleiss, Hugh Hefner, Max Julien, Rudy Ray Moore, and Conan O'Brien. Doug Pray (an excellent filmmaker in his own right) was the editor.
K-PAX (2001)
Kevin Spacey is a Psychiatric patient who claims to be from outer space, and Jeff Bridges is the Doctor who tries to cure him in this schmaltzy, over-the-top, piece of shit excuse for a movie. Director Iain Softley (who also helmed the equally ridiculous Hackers), seems to think that sunlight bouncing off of window panes and mud puddles somehow counts as meaningful and artistic filmmaking. In one scene, you can see the camera crew reflected in the side of a stainless steel coffee pot. With Alfre Woodard.
DONNIE DARKO (2001)
Here's a film that people either love or hate. I think it's great. Jake Gyllenhaal stars as Donnie, a sleepwalking, schizophrenic, high school student circa 1988. His house is crushed by an airplane engine that falls mysteriously from the sky, and his best friend is a giant, talking rabbit that no one but he can see. Much of the convoluted plot seems to revolve around time travel. In one scene a character reads Steven King's It, and another one watches the Bush/Dukakis debates. Later, Donnie and his friends drink whiskey and argue about The Smurfs. A flop in The States, Darko was a hit in Europe and then gained a cult following here after it was released on DVD. With Maggie Gyllenhaal, Patrick Swayze as a child molester, Jena Malone, Seth Rogan, Drew Barrymore, Noah Wyle, and Ashley Tisdale.
ROPE (1948)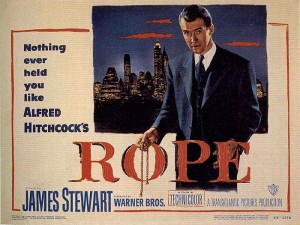 Hitchcock's dark, funny, and inventive take on the infamous Leopold and Loeb case is one of The Director's best. Two gay college students murder a friend just to see if they can get away with it. They stuff his body into a steamer trunk and then invite his family over for a dinner party. To maintain the integrity of the stage play upon which it was based, Hitchcock filmed the entire thing in a series of ten-minute takes, utilizing inventive close-ups and camera movement to facilitate act breaks. This was The Director's first film in color.
SATAN'S BED (1965)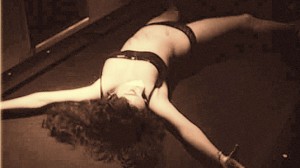 Yoko Ono stars as the mail-order bride of drug dealer Paulie (who's trying to go straight) in this sloppy slice of Grindhouse grit. Paulie's pal Lou isn't keen on losing his best supplier, so he hires three thugs to kidnap Yoko and hold her for ransom. There are quite a few (off-screen) rapes, and a bunch of characters shoot Heroin. This was made with the assistance of Michael and Roberta Findlay (who later made Snuff) and was released the same year as The Beatles' Help!
THE DEEP END (2001)
Scott McGehee's remake of the 1949 film The Reckless Moment is a powerhouse of a thriller that propels you through its taut running time. Tilda Swinton is home alone with her three children while her Naval Officer husband is away on duty. When her teenage son's gay lover turns up dead, Swinton, thinking her boy might be the killer, decides to cover up the murder. Complications arise in the form of the mysterious Alek who claims to know quite a bit about the crime and wants $50,000 to keep it to himself. As the threads of her quiet, middle-class life unravel, Swinton is forced to make some severe choices. A tense, character driven drama.
MULHOLLAND DRIVE (2001)
Originally conceived as The Pilot for a T.V. series, Director David Lynch's Mulholland Drive was decidedly too bizarre for its target demographic, so he re-cut it as a feature film and released it to theatres instead. Lush and trippy visuals, coupled with a Jazz-noir score courtesy of frequent Lynch collaborator Angelo Badalamenti, tell the story of an amnesiac starlet and the woman who helps her piece her life back together. There's also a plot about a film Director who is being blackmailed (with the threat of death) by a wheelchair bound midget or something. Several scenes are repeated, and much of the action seems to take place in the characters overlapping dreams. Then shit gets weird. With Naomi Watts, Dan Hedaya, Billy Ray Cyrus, and Robert Forster.
DIXIE DYNAMITE (1976)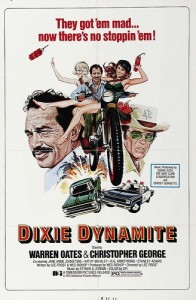 The daughters of a Southern moonshiner battle corrupt cops in a bid to avenge their father's death. The music is by Duane Eddy. Director Lee Frost also made The Defilers, Love Camp 7, and Black Gestapo.
LOVE FEAST (1969)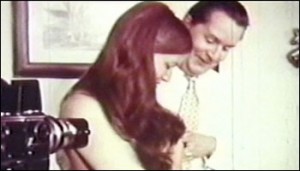 Ed Wood (looking greasy and bloated) stars as Mr. Murphy, a sleazy photographer who lures women to his house under false pretenses and then tries to get them into bed. As the movie progresses, his plan seems to be working; he's got so many gals showing up at his place, our busy host can't even find a minute to get laid. Eventually, a group of leather clad beauties arrive. They force Murphy into a dog collar, and make him lick their boots while they whip him. This film is typical of the type of soft-core dreck that Wood worked on towards the end of his career.
LIT HOUSE OF HORROR
SHOCK FESTIVAL (2008)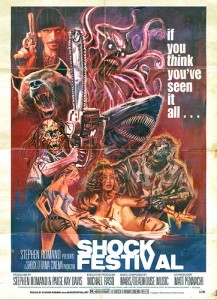 Author/ Screenwriter Stephen Romano takes you on a behind-the-scenes journey through the underground world of low-budget filmmaking in this masterpiece of farce. A veteran of Hollywood, Romano has fictionalized hundreds of stories from The Grindhouse Era and compiled them into a fast-paced, highly-readable account of the making of 101 films that never actually existed. The book is also amazingly illustrated with hundreds of faux movie posters, film stills, lobby cards, and newspaper advertisements, all of which were created solely for the project. As if that wasn't enough, Romano and company have also released a 3-DVD set, collecting the trailers for the vintage Horror, Sci-Fi, and Exploitation films which inspired the book. Shock Festival (the book) is available from IDW in a deluxe oversized 9X11 coffee table hardback edition, with 356 full color pages. Shock Festival (the DVD) is available in a 3-disc special edition from Bloody Earth Films. Both are a must-have for true fans of Grindhouse cinema.
TOYBOX OF TERROR
MOTHMAN VS THE MONSTER OF YUCCA FLATS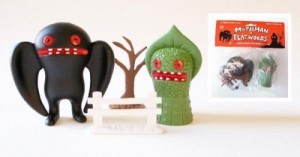 Uglydoll creator, David Horvath brings us this two-pack of super cool vinyl toys based on supposedly real creatures. These molded figurines make a unique gift for any fan of Cryptozoology or the unknown. Packaged with a piece of fence and a plastic tree for maximum playability. See more of David's toys and artwork by visiting his website or check him out on Facebook.
Nate Bradford is a writer and a film critic who divides his time between Bangor, Maine and Brooklyn, New York. Previous issues of his Mondo Muerte can be found in the R-Massive Zine Archive.