Well, I must confess, double-platinum Grammy winning pop isn't typically the type of thing I consider edgy, relevant, subversive, or underground enough to review, but something about young Ms. Elly Jackson has severely captured my interest. This red-haired androgynous shining star of electro-pop has drawn me into her lovesick moody world.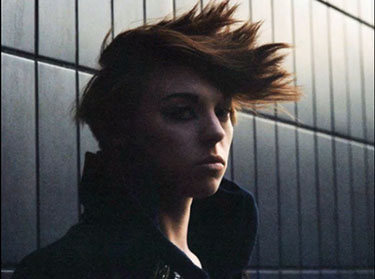 Elly Jackson is one-half (actually the only publicly visible half) of British pop act La Roux. Their sound harkens back to the synth dominated 80s New Wave / New Romantic scene: chock full of danceable, catchy, love themed hits. Appropriately and often compared to Annie Lennox / Eurythmics, Erasure, Soft Cell, and Flock of Seagulls, La Roux's debut album does indeed sound a bit like an '80s electro greatest hits compilation. As saccharin as that may sound (and at times is) there's something icy, mechanical, and grinding about the music that keeps things interesting.
The blend of quantized drum machine and distorted / aliased synth lines provides the foundation for Elly Jackson's shrill, yet sometimes dreamlike vocals. The complete lack of acoustic / organic instruments coupled with jagged laser-like electronics lends an alienating, although not quite menacing feel to the songs. Sharing a similar pedigree of inspiration to the Nine Inch Nails late '80s post-industrial classic Pretty Hate Machine, it should come as no surprise that there are even occasional moments that mirror Trent Reznor's darker lovelorn angst.
In my opinion, La Roux is at their best when dipping into that slightly sneering realm of torn-up hearts, but wistful moments such as the childlike and floating As If By Magic supply something satisfying to keep the generally softer, tamer end-half of the album from completely washing out.
If you're into brooding, rainy-day dance music with a bit of an edge, or just up for something retro-futuristic, give this album a listen.
P.S. Props to Skrillex for the Grammy, but don't bother with his remix of In for the Kill, instead just listen to the original below.