A5000 / A4000 / A3000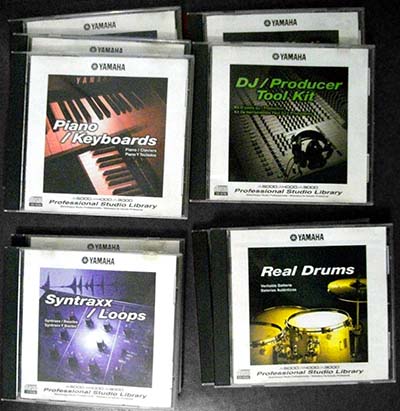 The Yamaha A5000 and A4000 came bundled with a set of 9 sample CD-ROMs and an additional data CD with editing utilities.
A5000/4000 Tools CD-ROM Contents
– XGWorks lite v3.0
– A5000/A4000 Editor
– Yamaha Wave Editor TWE v2.2
– Yamaha CBX Driver
– 98 tracks of CD audio filled with samples
Professional Sound Library
PSLCD-101 – Piano / Keyboards
PSLCD-102 – Guitar / Bass
PSLCD-103 – Brass-Wind Instruments
PSLCD-104 – String / Choir
PSLCD-105 – Real Drums
PSLCD-106 – World-Latin Instruments
PSLCD-201 – Syntraxx / Loops
PSLCD-202 – DJ-Producer Tool Kit
Standards CD-ROM (grand pianos, organs, brass, strings, woodwinds, guitars, drums, etc.)
A5000 – Guide to Accompanying Disks
Fuel Series
IFRA-1001 – Signals (Analog Dance Grooves)
IFRA-1002 – Funky Xtreams (Floor Trance Rhythms)
IFRA-1003 – Ethnicity (Asian Ethnic Loops)
IFRA-1004 – Twisted Reality (Texture FX)
IFRA-1005 – Opium (Traditional Chinese Loops)
IFRA-1006 – Vintage
TekLab A3K Wizard Series
Frank Winkelmann – Electronic Encounters [aka Spitzensynth]
Jonathan Grant – Gourmet Plate
Oscar Alvarez – Bucket O'Beats
Other
Soli – CD-A3001 YE – Folk & Dance
Easy Sounds – Loop Machine
A5000/4000 Floppy Diskette Library
– Demo Set (4 disks)
Accessing our premium content requires a password. To receive the password, please Like us on Facebook and send a message to our page.