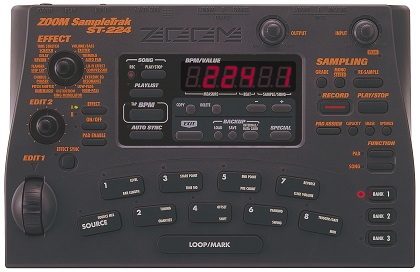 A bunch of fun stuff for your SampleTrak.
User Manuals
English
German
French
Italian
Japanese
Spanish
Utilities
ZMF Producer (with help file)
Zoom SampleTrak ST-224 Velocity Controller
Sounds
Factory Sample CD (WAV format)
ZMF Library
Demonstrations
Zoom MP3 Demo
Power Adapter
The official AC to DC adapter is Zoom AD-0006A, but AD-16A/D is another Zoom adapter which can be used as a replacement. However, there is nothing particularly special about the Zoom brand options, and nearly any DC adapter which is 9V DC, negative center, and 300 mA (or higher) can be used. In fact, a 10V adapter is also safe to use as the ST-224 has an internal voltage regulator.
Factory Reset / Initialize / Reinitialize / Restore
Warning: This wipes any user data stored in flash memory and replaces it with the factory samples!
– Power off the SampleTrak
– Hold the SAVE key and power on the SampleTrak
– The SampleTrak should show "init" on the display
– Press the EXIT key to abort, otherwise press SAVE again