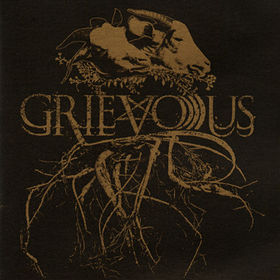 This is a 3 song EP released in 2004 on Worm Fodder (which is more of a collective than a label). How this has stayed so underground I'm not sure. Having the prolific Aaron Edge as a frontman and ties to big-name metalcore band Himsa, Grievous should be a household name within the sludge/doom community. This wouldn't be so much of an enigma if the band had no talent to back it up, but they do, oh they do.
This is dark and heavy all around with good production, interesting and hard hitting songs, and cool artwork. The EP starts of with the song "Prophets of an Old Science". A sampled quote of William S. Burroughs sets the theme as it breaks into a heavy chugging, post-hardcore romp through the swamp. Like a sludgier version of Cult of Luna, the music sets both an epic atmosphere and a layer of filth to bury you under. Loads of hardcore bellowing and screaming and a groove to keep you lurching. Next up is "Victorious Visionaries" which I can't help but think was inspired by another song but I can't put my finger on it. It kicks off with a bit of a Karl Sanders / Nile vibe in the first riff and breaks into a faster charge. But then comes the crawling, slow tempo part with the infamous double bass roll. After you're done being smashed into nothing, the song ends with a manic yet bluesy riff and glorious feedback. Fairly similar in style to the first track, which gives the EP some cohesiveness. The last song is "Unseen Seismic Wave" which is a stoner fueled groove. Liquidy and psychedelic, this track is a bit of a break in style but in an entirely appreciated way. Has a dose of Southern feel to it, a bit like Sourvein yet perhaps, but with its own style and the omnipresent torn throat vocals. Really, this is just a good solid molasses soaked slab of heavy, dark and slow. It can be had on CD for an affordable price on Amazon but now that the band has broken up, it has been made available for free download.
Track listing:
1) Prophets of an Old Science
2) Victorious Visionaries
3) Unseen Seismic Wave
Accessing our premium content requires a password. To receive the password, please Like us on Facebook and send a message to our page.