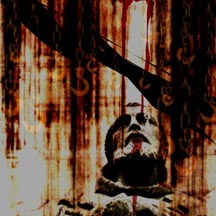 This three song demo is the best hardcore I have heard since the last Walls of Jericho CD came out.  Mythosis is heavy, tight, and passionate like all good hardcore should be, and the key here is that they also have created their own sound.  On Three Prayers for the Unknown, this five piece from Montreal have utilized an amalgam of hammering guitar, screaming vocals, precision rhythm section, and electro-noise, in all the right doses.  Some of the vocals seem Slipknot influenced, but mostly are hardcore shout with some emo elements.  The guitars are fairly nu-metal as well, and not so much straight chordal progression.  It's really the attitude of this band that comes off as hardcore.  But the electro sound here for me is the key.  It's a bit Fear Factory sounding, especially the tight double bass rolls, and blends into the mix in a way that isn't distracting at all.  Just a few samples here and there, and some strings in the background, all at appropriate times.  This demo isn't super-technical, no overplaying, just good solid punishment.  Mythosis are in no way trying to ride the metalcore trend at all, which is nice to see.  No recycled Iron Maiden riffs here.  The production is also amazing for a demo.  It could easily be released as an EP as is without any touchups.  I really have nothing bad to say about this demo, as it's simply one of the best underground releases of 2005 so far.  This short little gem has popped straight to the tops of the R-Massive heavy rotation list.  Put this on the stereo and expect a shovel to the face.  I knew I loved Canada for a reason.
Track listing:
1) The Art of Self Affliction
2) The Torture of the Damned
3) Darkest Corners
Total playing time – 11 minutes, 57 seconds
This appears to be out-of-print, and the band's website seems to no longer exist, so it has been made available below:
Accessing our premium content requires a password. To receive the password, please Like us on Facebook and send a message to our page.