Based on a novella in the Stephen King collection
Just After Sunset
,
N.
is a story within a story based around a mental patient whose obsessive-compulsive disorder may or may not keep the veil between two worlds from being lifted. Is he delirious? Is it contagious? Or are his compulsions the only thing keeping this world from being unraveled by Darkness?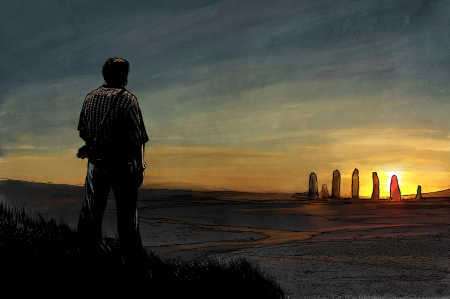 Similar to the Stephen King novel The Plant, N. is an experimentation in publishing. N. is a 25-part "motion comic", with each segment being only 1.5 minutes long, making the total running time about 30 minutes. The animation is done in cutout style, much like Krabat – The Sorcerer's Apprentice, except modernized and digital, placing it in a category almost by itself. With the exception of Watchmen – Tales of the Black Freighter, there are few titles blending similar technical style with dark subject matter.
While the format, delivery, and medium is daring in itself, the most refreshing thing about N. is that there is no precise antagonist. It's certainly arguable that King's anthropomorphic antagonists are generally forgettable, but regardless, he's at his best when working with characters in unusual situations rather than resorting to direct conflict between hero and villain. It's the situation and scenario that tends to frighten the most, instead of graphic depiction of murderous crazies with knives, or undead creatures with fangs. Intangible forces and unknowable evils can be much more terrifying than things that "go bump in the night."
Stephen King has been open about being influenced by Lovecraft, widely considered to be the literary master of unspeakable, unearthly monstrosities, yet, oddly, King has directly denied that Lovecraft was the basis for N. Instead, King attributes his inspiration to The Great God Pan, a novella written by Arthur Machen. I'm not entirely convinced that King wasn't channeling Lovecraft on some level (a deity named Cthun?), but as Lovecraft was known to have been directly influenced by Machen himself, I suppose it's a moot point. Fans of King, Lovecraft, and Machen will all likely find something of interest in this surreal tale of insanity and sinister powers working behind the scenes.
This more subtle and cerebral approach works well with the limits of the "motion graphics" medium. N. eschews the overt "gotcha" theory of fear manipulation. A psychological horror approach is almost mandatory as the slash and hack / gore / b-movie method simply will not work due to pacing issues. It's nearly impossible to have a cat jump out with "stinger" sound effects. The motion that can be conveyed in the visual aspect is far too minimal, and the audio has to follow suit.
Some viewers may find the slow pacing, simplified animation, or multi-segmented approach to be off-putting, but I found it refreshing and innovative. Anyone looking for something expertly assembled, yet off the beaten path would do well to explore the bent reality presented in N.